Disclosure
This post may contain Affiliate links. This means I may get a commission if you purchase, try, signup or visit by clicking on my links at no additional cost to you. Please read the Disclaimer Policy to know more.
How much time do you waste?
Do you invest your time wisely? A lot of people and businesses spend their time working. The amount of time invested efficiently and effectively is more important than just working. Think of your day or night. How well do you spend it? How much time did you waste?
Are you wasting time?
Companies are notorious for meetings. They just love to have a meeting. Whether for the sake of it or perhaps waste time. It does not matter but there has to be a meeting. Interestingly, after the meeting, there would be some arrangement for another meeting.
If the initial meeting was not good enough, there will allows be a follow-up to that meeting. It seems like the meeting never ends. It has to continue indefinitely. Some companies have these so called recurring meetings, daily meetings, weekly meetings, monthly meetings. One thing is clear, there is significant time lost in all these meetings. Want proof? Try the below.
This is for the leader, the decision maker, the project manager or any other person who holds any managerial title. You will make a difference if you stop the meetings and start implementing. Send an anonymous survey to your staff, team or colleagues. To make it easy, you may use the below questions, in no particular order.
Do you think we have too many meetings?
How long should a meeting be?
How many meetings should we have?
Should we stop all meetings?
How can we increase our productivity without any meeting?
The feedback
Obtaining feedback from your staff, colleagues, team members is more critical than just having another meeting. The endless cycle of meetings goes nowhere. You are actually wasting your resource cost for every minute you have another meeting.
Think about it for just one moment. Companies want to improve their bottom line. They want to cut costs and reduce unnecessary expenses. The Board of Directors or the CEO will mandate: due to the current budget, we are unable to continue with X,Y,Z services. We will reduce certain incentives.
The most important which is not implemented is the reduction of resource time by another meeting along with investing your time wisely.
The options
I want to provide some effective and efficient options you may use instead of having another meeting. Let us discuss some of these common ways.
Fiverr Pro offers you pro services that are hand-vetted for your business. Let us take a look at designing your logo. I have listed below designers who have verified reviews along with their rates ranging from $100+ onwards offering a variety of options: character logo, mascot, professional, hand drawn, modern business, cartoon, vintage and retro. All this in one place to be efficient and save time.
Every business needs to market and optimize their products and services. Fiverr provides this in one place.
Use the experts who are recommended. They will help you in your SEO journey and answer your queries.
Business Analysis
All in one place. From generating business leads to data search and much more.
The analysis
Invest your time wisely. If your thinking: wait a minute, I am spending more money instead of my meetings for these services. Think again! Calculate all the time you have spent in your meeting everyday for the whole year and total the dollar value. By the way, you are not having a meeting with yourself.
Most companies have a meeting with the entire department as smaller groups at different sessions. The management will have their own meeting to discuss their departments meeting. So much for effective time management and cost controls.
Yes, those very leaders are agreeing to waste time and money to discuss their departments and spend more time and money to discuss the same thing again, all over again. The question is: Are you willing to waste time for your meeting? Or, do you want to be efficient in your management. I hope you consider the above tools to help you invest your time wisely.
Kindly provide your feedback on what you like and what you want to read. I look forward to the next post. Thank you for your support.
Visit itsonlyhoney.com to learn about what we do. We are a small business in Winnipeg, Manitoba – Canada. Please leave a comment, subscribe to our newsletter and follow our social media.
Sign up for our newsletter by clicking on the link or use the QR code.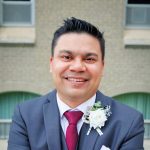 About the Author: 
Adrian Menezes is the Founder, President & CEO of IT'S ONLY HONEY INC., which provides management consultancy and helps people and businesses to achieve more. Adrian is a strategic expert, who loves to counsel clients and above all is passionate about sharing his business tips. Our mission is to create a service to inspire, empower and connect people to achieve more. He also practices as an Immigration consultant in his other business AJM Canadian Immigration & Citizenship Services Inc., where he helps people and businesses achieve their Canadian Immigration & Citizenship needs.