Disclosure
This post may contain Affiliate links. This means I may get a commission if you purchase, try, signup or visit by clicking on my links at no additional cost to you. Please read the Disclaimer Policy to know more.
Patience matters
Some of us have a true passion to excel in business. Are you patient with your business? We either want to share our accomplishments, mentor others, help our colleagues avoid pitfalls, or want to inform and create awareness on what works and what doesn't.
At some point in our lives, we are told to be patient. The fact is, many are not shown or even taught how to be patient. It is no wonder that those people who grow up in to the world make decisions, and make a lot of decisions.
What happens is nothing but a ripple effect, where we lose the essence of being patient, or even that intuition that tells us to hold out before we make the next big decision.
How can i be patient?
Like anything else in life, practice makes us more able to be patient or learn how to be patient. There is nothing wrong in starting from where you are at present. We are all not born the same, and some of us have patience like running water, and for some its never heard of.
To connect patience to people and businesses is vital. If you are running a business or working for one, you will need to patient in your life. I have listed below some steps:
1. Avoid making rash decisions
Recall when you came across a time, you are deciding on something too quickly without thinking it over. A little later you may have had second thoughts on the decision. This could be a quick trip to the supermarket with a specific purpose and seeing the long made you change your mind, only to realize a few minutes later the line has cleared, and you wished you were waiting.
2. Make smart decisions
We hear the term "smart decisions", but do we act on it. Everyone has it in their means to make smart decisions. That does not mean completing hours of research, being a scholar, or being intellectually smart. It simply means to focus on your objective, understand their consequences and set a time-bound goal to achieve it.
3. Don't repeat your mistakes
Follow your instinct. If you know, the decision you made in the past caused a certain circumstance or unpleasantness, why would you want to repeat the same mistake. Being patient will help you to avoid the recurring pattern and ensure you at least think and plan.
Enhance visitor experience on your website with LiveChat! Sign up now!
The business of being patient
We will now discuss the relevance of patience and your business. It does not matter if you are not: a business owner, entrepreneur, or have any interest in business, what matters is patience is needed no matter who you are and what you do.
It matters even more if you are a business owner, self-employed personnel, entrepreneur, artist, blogger, You Tuber or any other social media promoter.
Let us cover some examples on the value of being patient.
Decide what works for you
I have read a lot of blogs that state is some way: focus on your niche, drill down, less is more. This does make sense. However, it is not the almighty answer and should not be used as a blanket statement. Believe in what you do and what you are. The Gentleman Racer is an excellent example where its Founder, Michael Satterfield, writes about travel, automotive, fashion, art, watches and many more.
I know, you must be thinking that is a lot, but it also shows the patience of the owner to believe in his ideas, vision and his accomplishments.
Patience pays plenty
John Lee Dumas shows us his determination and patience. From his time commissioned as an Officer in the US Army, to finding a job, trying out Law school, and some other jobs…. And finally concepting the idea to interview entrepreneurs daily on his podcast.
This is another example of patience paying itself. I was reading about John Lee Dumas who likes to be called JLD. He is the Founder and host of Entrepreneurs On Fire. He publishes his monthly income report which for Jan 2022 is an astounding $215,205.00. His gross income since launch is $22 million.

Patience takes time
Michelle Gardner from Making Sense of Cents details her life, her passion and helps others with her personal finance and lifestyle blog. She details, the primary purpose of creating the blog was to pay off her $38,000 in student loans after she graduated in August of 2012.
Fast forward, Michelle has successfully built her blog which achieves millions in revenue. This is a good resource to learn about blogging and how to make extra income: How I Successfully Built A $1,000,000+ Blog.
I have detailed three examples, just enough not to bore you with numbers or excite you too much. After all, our mind can only hold limited info.
Are you a YouTuber or Blogger?
Many of you have started out, building your brand, creating your logo or trying to find out where to start. Incfile makes entrepreneurship easy. Get started with $0 LLC today!
The most important aspect is you started and your there. That's the first step you have taken. Don't be hard on yourself if you haven't achieved the stats you were expecting, cracked the algorithm, mastered SEO or found the perfect keyword.
The key message is PATIENCE and a lot of it. Think of the time you started studying in college if you did. Perhaps you learnt how to drive. Or even decided to speak a new language. How long did that take?
Goals and objectives
The answer to your success believe it or not is you. You have to set your goals and objective:
What do you want to achieve?
How do you want to achieve it?
When do you want to achieve it?
By setting small goals such as: (set your goal, measure it, track it)
10 followers in the next 100 days.
Publish 1 post every week for 12 weeks
I have provided a simple example on the What, How and When.
Use google analytics to gauge what your doing. This will help you measure and track your progress. You will get feedback, some of which:
Number of sessions
The bounce rate
Your post
How many people visited your post
For how long
Which post had the most views and why
What did you do different on that post
These questions will help you understand what your doing good and what you need to improve on.
Find a sponsor for your web site. Get paid for your great content. shareasale.com.
How patient or impatient are you? Let me know in the comments section.
Kindly provide your feedback on what you like and what you want to read. I look forward to the next post. Thank you for your support.
Visit itsonlyhoney.com to learn about what we do. We are a small business in Winnipeg, Manitoba – Canada. Please leave a comment, subscribe to our newsletter and follow our social media.
Sign up for our newsletter by clicking on the link or use the QR code.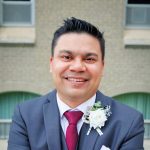 About the Author: 
Adrian Menezes is the Founder, President & CEO of IT'S ONLY HONEY INC., which provides management consultancy and helps people and businesses to achieve more. Adrian is a strategic expert, who loves to counsel clients and above all is passionate about sharing his business tips. Our mission is to create a service to inspire, empower and connect people to achieve more. He also practices as an Immigration consultant in his other business AJM Canadian Immigration & Citizenship Services Inc., where he helps people and businesses achieve their Canadian Immigration & Citizenship needs.